N-Focus
N-Focus Key Benefits
Web-Based Reporting with Unlimited Supervisor Views
Scheduled Email Reports
Real-Time Alert Triggers
Ease of Use: Very little training required
Mobile Device Interface
Multiple PBX Support
Historical Reporting
Real-Time Graphing and Large Display Support
All Versions of Communication Manger Supported
High performance, scalable Online Transaction Processing (OLTP) database utilized
Unlock Call Center Activity and Performance Data
Call centers today are growing rapidly. N-Focus is a revolutionary new software solution that provides valuable web-based analysis about the performance and effectiveness of your Avaya call center operations. N-Focus proactively seeks out and highlights call center performance information such as:
Who were your best and worst call center agents today, yesterday, last week, or even last month?
Which agents are taking shortcuts while doing their jobs?
Is the call center over or understaffed?
Who are the most productive or least productive agents?
Is call center performance really improving or degrading over time?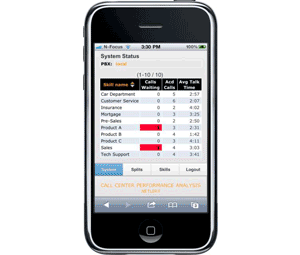 N-Focus also allows you to deploy an easy to use and affordable call center reporting solution:
Display N-Focus reports to any web browser throughout your organization, anywhere in the world
Unlimited views to all N-Focus reports allows any number of supervisors and upper management in companies to utilize key call center analysis information
Automatically E-Mail Reports as PDF files or Excel Spreadsheets
N-Focus will allow you to improve call center efficiency and to substantially reduce your cost of operations.
Click here to view a product tour or request a live demonstration with one of our N-Focus specialists. You can also view a recorded webinar of N-Focus.